With its volcanic soil, fresh air and clean environment, Bilpin produces some of the worlds very best products and the following, made solely from ingredients sourced locally, will indulge your senses …
INNER BEAUTY BY RACHAEL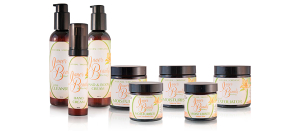 "Our passion is to bring you skin care that is completely natural, contains certified organic ingredients, is free from animal cruelty and delivers a range of powerful antioxidants, vitamins and essential oils that will leave your skin rejuvenated and feeling constantly nourished."
                                                                     http://innerbeautybyrachael.com.au/
HILLBILLY CIDER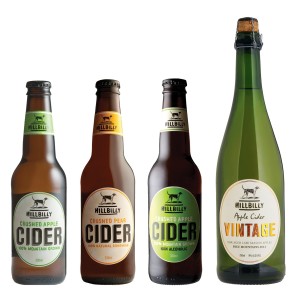 A multi award winning cider company using crushed Bilpin apples made the simple way, just apples with altitude and a little bit of good old Hillbilly magic. Awards include best in class – Australian cider awards and also highest scoring Australian cider in the 2015 International cider challenge in the UK with a silver medal.
Hillbilly is available in local bottle shops and restaurants including on tap at Bilpin Afire and the Archibald hotel. The cider can also be purchased direct from the guys at Hillbilly at Richmond Good food market every Saturday at Richmond cricket oval.
BILPIN CIDER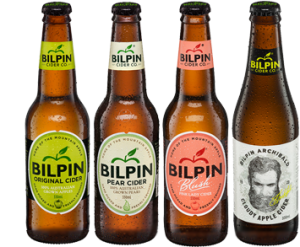 "At Bilpin Cider we create pure, fresh apple and pear cider – no added sugar, artificial flavours or concentrates. We use only the freshest fruit from Bilpin and the surrounding region and believe nothing beats the natural taste and aroma of real mountain fruit."
Bilpin Cider operates a 'cellar door' outlet – see Places to Visit page for further information.  http://www.bilpincider.com/home
THE KARMA SOAP COMPANY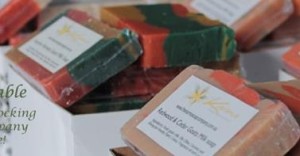 "The Karma Soap Company takes a holistic approach to the medicinal and cosmetic benefits of goat milk. They have invested extensive time in research and development, to deliver Goats milk soap that are not only gentle but luxurious on your skin."
http://www.thekarmasoapcompany.com.au/
TUTTI FRUITTI JAM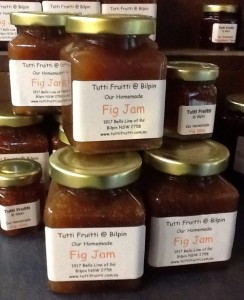 Tutti Fruitti in Bilpin is stocked with their own range of berry jams, apple jelly, fig and feijoa jam, local chutneys, honey, apple cider vinegar, wild hibiscus range and local apple juice.
http://tuttifruitti.com.au/wordpress/
 BILPIN BUSH HONEY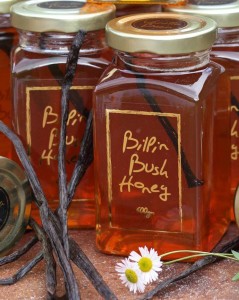 Rob and Gina Porteous are the proud makers of this all natural Honey sourced from the nector of local flora located in Bilpin.
Available to purchase from Pie in the Sky and Bilpin Cider Cellar Door.

JAGGARD'S DRESSINGS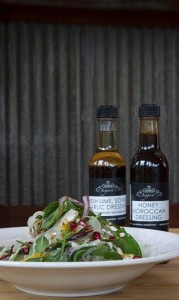 Sugar free, chemical and preservative free, Honey Moroccan Dressing (GLUTEN FREE) and Fresh Lime, Soy and Garlic Dressing are very versatile on char grilled meats, poultry and fish. Available to purchase from Coconut Lime Cafe 250 George Street Windsor, Apple Tree Emporium (Bilpin Markets)  and Pigeauds Store Mt Tomah.
FIDDLEBACK GALLERY
Located on Bells Line of Road Bilpin, the Fiddleback Gallery offers unique pieces of timber furniture, handcrafted by Daniel Koles.
They  also stock locally produced products such as Bilpin Bush Honey, Jaggard's Dressing's, Inner Beauty by Rachael, Goat Soap from the Karma Company, novels in the Lions and Lilies series by local author Catherine Wilson plus much much more …
MAMA TINA – HANDMADE APPLE AND PEACH PRESERVES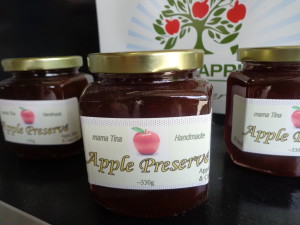 Made from only the freshest apples and peaches grown and picked at Saliba's Fruits.
Available (seasonally) to purchase from Saliba's Fruits
RAYS ORCHARD – Bilpin Apple Juice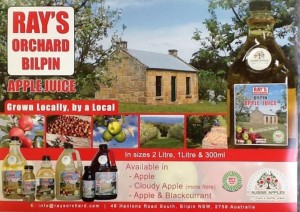 Local growers, Ray's Orchard produces apple, cloudy apple and apple/blackcurrant juice which can be purchased from Hanlon's Hardware, Bilpin Apple Bar, Wildwood Gardens, Mt Tomah Restaurant and Bilpin Springs Orchards. For additional information and sales email info@raysorchard.com