A tree is known by its fruit; a man by his deeds. A good deed is never lost; he who sows courtesy reaps friendship, and he who plants kindness gathers love. Saint Basil
                                    APPLE SEASON RUNS FROM JANUARY TO MAY.                                      OTHER FRUIT AND VEGE FROM NOVEMBER TO MAY.
4 WINDS FARM BILPIN
2840 Bell Line of Road, BILPIN NSW 2758
PH 0413004242  EMAIL 4windsfarmbilpin@gmail.com
Enjoy the beautiful scenery and taste the amazing flavours of the delicious organic fruits at 4 Winds Farm Bilpin (known for its winds that can blow in all directions). They offer farm gate sales and pick your own pure organic fruits: peaches, cherries, apples, pears, apricots and blueberries, tomatoes. 
They are currently picking Blood Plums on Saturday 14th and Sunday 15th January 2017. Open 10am till 6pm. You can pick you own plums and organic peaches are available to purchase.

   http://www.4windsfarmbilpin.com.au/
BILPIN FRUIT BOWL
2093 Bells Line of Road BILPIN NSW 2785
PH (02) 4567 1152    FAX (02) 4567 0115     EMAIL info@bilpinfruitbowl.com.au
The Bilpin Fruit Bowl has been owner operated by the Tadrosse family since 1985 and is open 7 days a week from 8.00 am till 5.30pm (CLOSED CHRISTMAS DAY). The farm is open on weekends only (weather permitting) during harvest time between the hours of 10am and 4pm. The 55 acre orchard contains fully matured and producing peach and apple trees. The Fruit Bowl also offers the opportunity to adopt your own peach or apple tree.  Please see the Bilpin Fruit Bowls website for further information on this innovative program.
The Bilpin Fruit Bowl have peaches and nectarines for pick your own and  also vegetable picking open to the general public. They are also offering a HUGE assortment of vegetables and herbs – chemical free.
The farm will be open from 10am to 4pm on weekends and public holidays from mid November. Each week a complete list of vegies that are ready for picking will be listed on their Face Book page – link below.Some of the vegies avalaible are tomatoes, cucumbers, eggplants, chillies, capsicums (green, chocolate and black), cauliflower, cabbage (chinese, purple and green), radishes (red, white, watermelon, rat tailed and black), shallots, bok choy, kale (red and green), broad beans, peas, beans, turnips, beetroot, silverbeet, fennel, celeriac, okra, celery, radicchio, lettuce (iceberg, cos and salad mix), parsnip, brussel sprouts (red and green). corn, zucchini, pumpkin, carrots, heirloom carrots, snow peas, jalapeño chillies, habanero chillies (orange and white), basil, mint and purslane.
They are the only farm in NSW to offer this wide selection of vegetables for pick your own. 
For futher info on pick your own vegies email Margaret – fruit275@tpg.com.au

BILPIN SPRINGS ORCHARD
2550 Bells Line of Road BILPIN NSW 2758
PH (02) 4567 1294
This small orchard grows fruit that you can pick in season (apples, pears, stone fruit and more) and develops products to reduce fruit pests (especially fruit fly).  It is advised that visitors check the website when planning their trip to ensure that the orchard is open and to ascertain what fruit is available to pick. Due to the small size of the orchard, visitor numbers are limited.

SALIBA'S FRUITS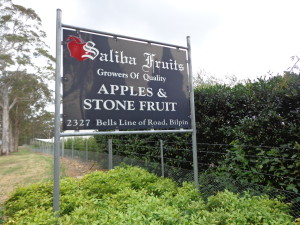 2327 Bells Line of Road BILPIN NSW 2758
PH 0415 663 900 or  (02) 4567 1281 (B)   (02) 9653 1586 (AH)
EMAIL salibafruits@hotmail.com
Saliba Fruits are growers, packers and distributors of apples and peaches. For over 35 years this family owned and run business has produced some of Australia's finest quality produce from the Bilpin district.
All packing is done on site and Saliba Fruits has a same pick and pack day policy.
All fruit from the farm is sold and marketed by Sydney Flemington fruit
market agent, Goldenfruit. Saliba Fruits does NOT offer 'Pick Your Own', however, you can purchase fruit directly from their immaculate shed, when their apples and peaches are in season, along with their delicious jams (see What's On In Bilpin).