Up to date information on events held in or close to Bilpin …
57th Annual Bilpin Flower Show and Spring Fair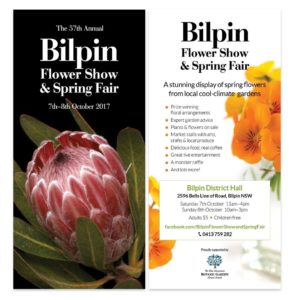 Saturday 7th October from 11am to 4pm
Sunday 8th October from 10am to 3pm
at the Bilpin Hall, 2596 Bells line of Road, Bilpin
The Flower show is expecting over 500 entries and will award prizes for the best of a wonderful array of flowers and foliage from the local cool climate area, such as rhododendrons, azaleas, iris, roses, orchids, maples, waratahs, Australian natives and much more.
Flower arrangements and kitchen produce from the garden are also included as well as special novelty children entries. This year there will be also a children's activities area
– tons of fun with crazy pots, plants, crafts & face painting.
This event is proudly sponsored by Mount Tomah Botanic gardens who will be on hand to answer all of your horticultural questions and to offer advice.
There's something for everyone with over twenty-five stalls.
– Delicious food & great coffee
– Local wine and cider
– Plants and tools
– Spinning, Weaving, Arts and Crafts from the area
– Chicken breeders on hand to answer all of your "chook" questions and
showcase some unusual breeds
– Second-hand treasures abound.
On Saturday, the glamorous drag queen "Miranda Fair" will delight plus there'll be musical entertainment from local groups.
And the fun continues on Sunday, with Glenn Watson performing.
LOCAL COMMUNITY MARKET
Bilpin District Hall – Bells Line of Road, Bilpin
Every Saturday from 10.00 am till 12 noon.
An opportunity to buy freshly picked local organic produce, fruit, veges, freshly baked cakes, in-season fruit pies, plants, flowers, handmade woolen items, local honey, home made jams, chutneys, rocky-road, biscuits, local crafts, bric-a-brac, environmentally friendly cleaning products, so much more!
Come and enjoy a chat with the friendly local community while sampling our great coffee and delicious brunch and the sweetest treats around.
New stallholders welcome, only $10 for undercover stalls.
lFor information, contact Dawne, 4567 1215 or grenrose@bigpond.net.au
BLUE MOUNTAINS BOTANIC GARDEN – MT TOMAH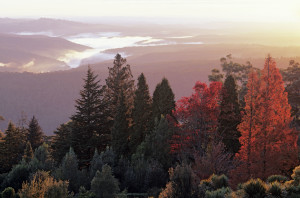 Bells Line of Road, Mount Tomah, NSW 2758 
This breathtaking Garden is the only botanic garden in the world located in a World Heritage Area. Focused on the conservation of cool climate plants it is home to 21,000 plants and 900 species.
Located under 2-hours' drive from Sydney airport and less than an hour from Penrith and Richmond, the Garden is the perfect backdrop for a gathering, workshop or family day out.
Over the next five years, we are revisiting and returning the Garden to the original vision for the site while aspiring to be the model garden for sustainable practices on a global stage.
The Blue Mountains Botanic Garden is open every day except Christmas Day.
Monday – Friday: 9.00 am – 5.30 pm
Saturday, Sunday and public holidays: 9.30 am – 5.30 pm
Entry Is FREE
Further information on all events occurring at the Blue Mountains Botanic Garden Mt Tomah can be found at:
RICHMOND GOOD FOOD MARKETS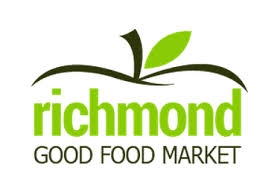 RICHMOND PARK – Corner of March and Windsor Street, Richmond.
Saturdays 7am to 1pm
Just 30 minutes from Bilpin, the Richmond Good Food Market offers the opportunity to
Support Local Farms
Meet local farmers and know how your food was raised
Avoid chemical and other additives routinely used in mass produced farms
Support the community and local agribusiness
Source great tasting food
Save money and bypass Coles and Woolworths
Support the Local Economy
A large number of Bilpin producers can be located at the markets, including Hillbilly Cider, Jaggards Dressing, Bilpin Honey and many many more.
MOUNT WILSON

Mt Wilson, the heritage garden village, is in the World Heritage Blue Mountains, only 30 minutes from Bilpin. The area has magnificent natural bushland and rainforest, walks and canyons as well as historic houses and grand exotic gardens, some of which are open to the public.
For a full list of events and open garden dates, please visit the website below.
.